About
| en |

My work at the moment confronts chaos with causality and involves a performance on my part around a mechanical machine that requires my continual intervention.
The latest machines I've built provide the ability to trace distorted, deformed (topological) space, while I constantly have to adjust and guide it during the process.
I didn't want to lose my involvement under no circum stances, because then we would deal with a sort of robot or automaton product that does what it was programmed for. At that time the only creation would be the assembling of the robot and its programming.
A new element appears here: the performance or dance with the machine that requires constant attention and a reaction at any time to the mechanisms that trace chaotically (not randomly); every derivation, no matter how small, completely changes the situation.
The tools as well as my performance and my intervention evolve with every drawing, often the machines break apart during the process and I have to repair or replace parts, sometimes everything.
Throughout this process the trinity medium-machine, paper-subjectile and subject-body move actively, reactively and interactively to result in a drawing whose final appearance is unpredictable and irreproducible.
---
Specialized Master in plastic, visual and spacial art in Drawing at (ARBA-ESA) the Royal Academy of Fine arts in Brussels.
---
- International Emerging Artist Award 2016 - Group Show of the Laureates at TAG bxl gallery in Brussels.
- "Images de soi – Images de l'autre" 2012-2013 – Exhibition at the Brussels Jewish Museum.
-…
| fr |

Mon travail pour l'instant confronte le chaos avec la causalité et implique une performance de ma part autour d'une machine mécanique, qui nécessite mon intervention incessante.
Les derniers outils que j'ai construits donnent la possibilité de tracer des espaces déformés (topologiques), tout en devant régler et guider constamment la machine pendant le processus. Je ne voulais surtout pas perdre mon implication parce qu'à ce moment-là on a à faire à une sorte de robot ou d'automate qui produit ce pour quoi il a été programmé. La seule création consiste alors à assembler le robot et de le programmer.
Un nouvel élément apparaît ici, c'est celui de la performance ou de la danse avec la machine qui nécessite une attention constante et une réaction à tout moment au mécanismes qui tracent de manière chaotique (et non pas de manière aléatoire), car toute dérivation, aussi petite qu'elle soit, change complètement la donne.
Tout au long de ce procédé la trinité médium-machine, subjectile-papier et sujet-corps se déplacent de manière active, réactive et interactive pour résulter dans un dessin dont l'aspect final est imprévisible et irreproduisible.
---
Master spécialisé en arts plastiques, visuels et de l'espace en Dessin à l'Académie Royale des Beaux-Arts de Bruxelles.
---
- International Emerging Artist Award 2016 - Exposition collective des lauréats à la TAG bxl gallery à Bruxelles
- "Images de soi – Images de l'autre" 2012-2013 - Exposition au Musée Juif de Bruxelles.
- …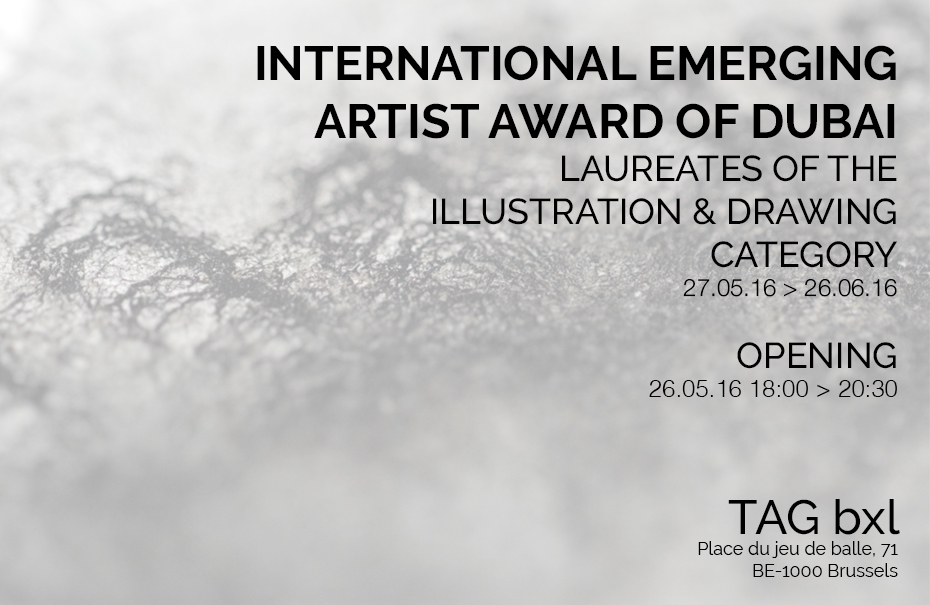 LAST EXHIBITION
For the Illustration and Drawing category, of the International Emerging Artist Award 2016, one of my exclusive Drawings has been chosen to feature at the group show of 26 International Laureates at TAG bxl gallery in Brussels.
For more information check the pdf-files below:
---